Description
Chase Hughes is releasing his Behavior Practitioner Course to the public July 1-3 2019. Join us for a three-day certification course in Nashville, TN and be one of the first in the world to earn a military-grade certificate in psychology and human influence.
YOU WILL BE CERTIFIED BY CHASE HUGHES THE LEADING BEHAVIORAL-TECHNOLOGIST IN:
Day1: Behavior Profiling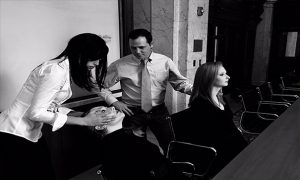 Body Language – from head to toe
Behavior Interpretation
Profiling Language and word usage
Profiling needs
Identifying fear and insecurity
Lie-Detection
Violent Behavior Recognition
Day 2: Influence and Persuasion
Confusion as a Weapon
Enhanced focus development
Using dissociation
manufacturing suggestibility
Linguistics – advanced conversational training
Day 3: Authority & Skills Development
Why authority matters more than persuasion
The factors that trigger obedience
Setting off 'obey' tripwires
The factors that create authority
The MACCI trigger routines
Developing the mastery 'zones'
How to fully develop complete social authority
Developing the mastery 'zones'
Rehearsal with coaches and feedback
One-on-one time with Chase to practice
Building your 'influence package'
FREQUENTLY ASKED QUESTIONS
WHAT SKILLS WILL I LEARN?
Aside from the topics covered above, you'll get practical, applicable skills in human behavior and communication. Not only will you be able to see many of these techniques in real time, you'll have access to our team, who will help you to analyze and interpret your results and make adjustments as necessary.
The skills we teach are designed to produce serious results in any environment. Whether you're in sales or work from home, influence and persuasion can have a serious impact on the results you bring into your life. As you develop these skills and use the resources you will take home from the event, you'll be able to see growth in several areas of your life.
The topics in the course not only teach you how to create change in others, they create massive opportunity for personal growth and development. The self assessments and exercises in the class will help you identify critical growth opportunities in your own behavior.
WHAT IS AND ISN'T CATERED FOR IN THE COURSE FEE?

You need to arrange and pay for your own lodging, breakfast (most hotels have breakfast included) and extracurricular entertainment. Lunch and Dinner will be provided along with tea, coffee and water throughout the day.
TELL ME ABOUT THIS CERTIFICATION
Your certificate will be issued and signed by Chase Hughes, and you can add it to your Resume, post it on LinkedIn, and share it with anyone you'd like. Your certificate will be the SAME certificate issued to government agencies at agent and executive levels.
We offer four levels of certification. THIS is the highest.
WHAT SHOULD I BRING / WEAR?
The event is casual. Expect most of the people at the event to be in 'business casual' attire.
WHAT LODGING SHOULD I ARRANGE FOR THE EVENT?
The training by Chase Hughes will be held at our training facility in near White House, TN which is off I65 exit 108.
There are 5 area hotels including Comfort Inn, Holiday Inn Express and more; the nicest one is the Hampton by Hilton
Hampton by Hilton  404 Hester Drive   White House, TN   615-672-3993    
Holiday Inn Express 206 Knight Cir. White House, TN   615-672- 7200  
Quality Inn   354 Hester Drive White House, TN  615-672-7000    
Motel 6   340 Hester Drive White House, TN

 

615-672-8850    
Comfort Inn 140 Maiden Lane White House, TN

 

615-581-0040  
IS THERE A BOOK SIGNING?
Books will be available for purchase at the event and Chase will sign as many as you'd like at no charge. Whether you want a book signed, or a selfie with Chase Hughes, you're good to go.
To Find Out More about Registering for the Event or to Register by phone call Jolana at 310-740-4667
These Trainings are very comprehensive and packed with content.  Our Guarantee/Promise to you is that if you feel you ever need a refresher or just want to take the course again you can come to a future date the next time it is offered for half price.  Also if you can not make it for any reason after signing up you can always come to a future course of the same training even if there has been a price increase no questions asked or apply your tuition to another course offering.   The half price offer does not apply to the 10 Comics – 10 Hypnotist's Comedy Writing Bootcamp.