Facebook Business Page vs. Personal Profile: Which is Right for YOU?
Facebook Business Page vs. Personal Profile: Which is Right for YOU?
Want to understand what is the best route to market your hypnosis business on Facebook?
Wondering how to pick the best Facebook platform?
I am Jolana Andre, and I have been doing social media for The Rich Guzzi Comedy Hypnosis Show since 2005, when Myspace was the go-to platform. Social Media has exploded since then and become so confusing. My goal in this article is to break down the features and functionality of Facebook business pages, and personal profiles explain the pros and cons so you can develop your own effective social media marketing plan.
Personal Profile vs. Business Page
Facebook has given us many ways to connect with others. I want to share with you the good, the bad, and the ugly about using a personal profile or/and business page on Facebook.
First, let's define the differences and similarities:
Facebook Personal Profile was designed to help us keep up with friends and family on a daily basis. It is the place to share personal photos and status updates with people who are close to you. You can also use your personal account to message friends directly or comment on the activity they share on their personal page.
Facebook Business Page is attached to your personal profile, so Facebook knows who owns the page, but it's a separate presence you can use to promote your business, brand, or cause. Because pages are designed for business use, they have a number of features not available on profiles, including analytics, advertising, and post scheduling.
Pros of Using Your Facebook Personal Page for Business
Before you start using your personal profile for your business, make sure you understand the Facebook Terms of Service and the basics about privacy settings. You don't want to risk violating Facebook's Terms of Service, and then your account closed. Your account is at the mercy of Facebook, which can shut it down at any time.
If you are going to use your personal profile to promote your business, here are some ways to stay compliant.
Every business has a story. Using your personal profile to share that story is a fantastic way to talk about your business without violating the Facebook Terms of Service.
Create Content. Put up posts about how you got into hypnosis, success stories with clients, new products, and upcoming events. Behind the scene, posts are a great way to market your business and personalize the experience for friends and clients.
You want to make sure that clients can contact you. In the About section, you can add your business website, your email, phone number, and links to other social media platforms.
Make sure if you post something personal intended just for family and friends, adjust your post audience on the drop-down menu and make it as private.
Cons of Using Personal Profiles for Business
Personal Profiles are intended to stay in touch with family and friends – sharing your life adventures. Business Pages are to promote, build, and market your business.
Your friends and family care about you and your business, but they may not be your primary source of paying clients/customers/fans.
Ask yourself, "Is your personal profile attracting the engagement you want or eventually exhausting your friends and family?"
Another huge drawback is that Facebook only allows 5000 friends. Once you hit this milestone, you will be forced to open a Business Profile, so why not just do it now?
Facebook advertising is a powerful tool, and advertising options are very limited on a personal profile. You can't post ads with links to your website or online ordering.
Without advertising options, scaling your business through Facebook marketing is almost impossible. With nearly 2 billion people on Facebook, finding new customers can be challenging if you are only using your personal profile. I resisted starting over with a Business Profile. After all, "Friend Requests" were flooding in after the shows, and Rich's personal profile was thriving. The fans were interacting on social media, then, in turn, coming to the shows and filling the comedy rooms. I didn't want to give all that up and start over with a by opening a Business Page. Then it hit – Rich reached the 5000 "Friend" limit. We were forced to open up a Business Page.
Remember, Facebook is in control, so your account could be shut down for violating Facebook Terms of Service. All that hard work – Poof – Gone.
Pros and Cons of Using a Facebook Business Page
Pros
With a Facebook Business Page, you can keep the Facebook Gods happy and keep your account in good standing. You will have the freedom to post, advertise, and focus your content around your business, industry, and clients.
AND IT'S GOT ALL THE FUN TOOLS
Here are some of the features:
• Allows you to schedule your posts
• Adds captions to your videos (80% of all videos are watched without sound)
• Create Events
• Showcase your Services
• Shop: Clients can buy your products directly from Facebook. Sales are sent to your bank account.
• And Advertise!
You can tailor your social media marketing strategies to fit your needs.
Advertise. Facebook has powerful advertising tools to help you reach new audiences and nurture people who follow your business page. With a business page, you get access to the full line of advertising options.
• Encourage people to like your page and thus increase your number of followers.
• Display an ad to people who like your page.
• Target people who have engaged with your posts.
• Target people who have already visited your website.
• Display an ad to people on your email list.
• Attract people who share traits of those who already like your page.
• Create giveaways and contests
Even with a small advertising budget, they're effective, because you can choose your target audience based on demographics, behaviors, or contact information. You can choose a daily or overall budget for ads, select the amount of time an advertisement runs, and adjust your desired audience. Facebook tracks the interactions on each promotion you run, which helps you develop highly successful campaigns in the future.
Access analytics. You can find out everything you need to know to market your "Target Audience." Facebook Analytics gives insight to when the best time to post, what posts are getting most interaction etc.
It allows you to find out what is working and what isn't so you can adjust your marketing strategy.
Important to Know: Google Analytics displays your Facebook Business Page when someone is searching for you, whereas it doesn't recognize a Personal profile.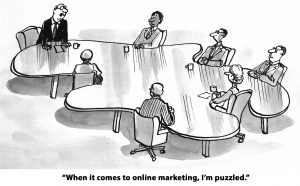 Cons of Using a Facebook Page  Facebook is pay to play. Only 2.3% of people who like your page will ever see your post. Now by creating more interaction, you can bring this number up. Another way to get your posts seen is to advertise on Facebook. It can be extremely useful to reach your target clients and build your business.
Your ads might not be approved. Facebook's ad policy prohibits certain types of content in advertising and posting in general. For example, your ad may not promote the sale or use of tobacco products on Facebook. You have to be careful when advertising a Stop Smoking Seminar on the words you use, so it doesn't sound like you are promoting tobacco.
Managing a business page can be time-consuming. As a business owner who's likely running day-to-day operations, you have only so much time for social media marketing. However, if you create a Social Media Content Calendar and schedule posts ahead of time, you can avoid becoming overwhelmed with managing pages.
Conclusion
Choosing the right Facebook platform for your business takes a thoughtful approach. Depending on what type of business you have, selecting some combination of a personal profile and business page can help you achieve your business goals.
For more information and help to create your own Social Media Marketing Strategy contact me – Jolana Andre at jolana@hypnosisworld.com or 310-740-4667